The towns and countryside around Lodge Coppice are packed with places to visit, things to do and past-times to enjoy.  There are none more popular than quietly river fishing or visiting the many ponds, lakes and pools that grace the fields and farmland around Lodge Coppice Holiday Park.
However fishing is just a start...
as there are many magical fun filled days of activities, to explore in the Wyre Forest district, throughout Worcestershire, Shropshire and across the Welsh border. Whether you are looking for a fun family day out with the kids, high wire forest adventure or relaxing and absorbing history and culture there are so many great things to do and places to visit.
If we can help in any way please call 01299 272 864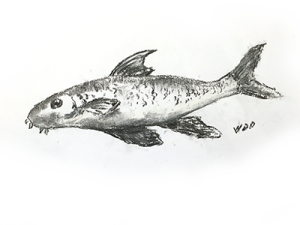 Where better to rest in the late afternoon than under a low hanging branch of a lazy willow, catching the warmth from the shimmering water. The big old bronzed Barbel watched Mr Walker carefully choose his favourite fishing spot on the banks edge, of the River Severn. "You didn't catch me yesterday, last week or last year…and you're not catching me today" she thought!
Over her 9 years she'd swam lots of the 220 miles of the River Severn; many times she'd enjoyed the quiet waters just a short drive from Lodge Coppice Holiday Park. She always avoided fishermen. At a little over 16lbs she wasn't a bad looking fish.