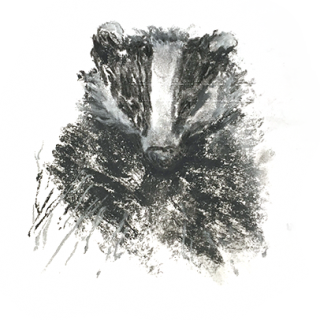 Now's the time to buy your own perfect holiday home!
How about never having to fly again? No 14 day isolation when flying home, no luggage checks, no delays, no queuing, no coaches, no passports and no restrictions to how many times you'll be able to holiday once our park reopens! We have an amazing selection of brand new Static caravans for you to enjoy all year round. Holiday as many weeks as you can and throw in weekends, bank holidays and short breaks, it's the perfect answer to all your holiday needs.  Talk to us today about safe distance viewing appointments! Don't wait as the best deals, best choice and the best sites are available right now.  01299 272 864 or mobile on 07507 105219
Mr Brock Badger rarely left his warm Sett in the daytime, he preferred to sleep, today he was awake, it was silent outside, he quietly shuffled up his long tunnel into daylight. He blinked quickly as his eyes adjusted to the warm setting sun. He had never had a Caravan Holiday.
The autumn leaves had left a new carpet of gold and brown across his woodland paths and down towards Lodge Coppice.
Brock had become somewhat of an expert on static caravans and static caravan holidays. He'd enjoyed monitoring the holiday park taking shape.
Today the new static caravans for sale, gently blended into the surrounding woodland, sympathetically improving it, he felt.
He had no idea why there was such a selection of different styles of holiday homes, different sizes, different layouts, door and window configurations, from various manufacturers but he could see they were popular with the visitors to the site. His only concern was maintaining the peace and quiet and he was pleased it was as quiet now as it had always been – he loved living in the Wyre Forest!
The Davies family have carefully selected  a selection of brand new handsome static caravans for sale, brought them to site, for you to buy, each they've sited onto a new pad with piped gas connection (no bottle changing to worry about) water, sewerage, electric  and TV point; yes full home from home services. Not only is this one of the newest, quietest, best run, scenic parks in the UK but it also offers its new owners amazingly good value for money. So if you are looking to buy a static caravan please add Lodge Coppice to your list!
You're welcome to come and have a look...why not bring a picnic, take a walk and visit somewhere special nearby while taking your time considering buying a static caravan,one of the wisest purchases you'll ever make?
Who's Static Caravans do you sell and tell me a little more about the Brands
[caption id="" align="alignnone" width="300"]
Willerby logo[/caption]
Willerby – One of our favourites. For over 70 years Willerby have been the largest manufacturer of Static caravans and Holiday Homes. They sell Static Caravans and holiday homes throughout the UK and across Europe – so you can switch off, sit back and enjoy. Perfect for the Severn Valley or Wyre Forest.
[caption id="" align="alignnone" width="271"]
Pembertons Logo.[/caption]
Pemberton make Static Caravans and Holiday Homes that seem to just fit perfectly into the desires of those looking for that perfect holiday home - trust Pemberton for your new Static Caravan. You would love on of these near Bewdley.
[caption id="" align="alignnone" width="300"]
The Carnaby logo[/caption]
Carnaby's mission over the last forty years has been to create  Static Caravan and holiday homes people want to own. Whatever you're looking for Carnaby makes the perfect solution for your budget. The perfect Static for the Severn Valley or near Ludlow.
[caption id="" align="alignnone" width="300"]
The Regal logo.[/caption]
Regal are known for fresh, stylish designs in their Caravan Holiday Homes. Their Static Caravans are second to none. If your looking for something to site near The Marches or Ludlow this might be the one.
[caption id="" align="alignnone" width="300"]
The Victory logo[/caption]
Victory –  Victory Leisure Homes produce Static Caravans and Holiday Homes to the highest quality that you will enjoy for years and years! Victory and Bewdley were made for each other...
[caption id="" align="alignnone" width="574"]
Delta Logo[/caption]
Delta Caravans were established in 1983. Stunning, very modern caravans with a contemporary feel. Delta pride themselves in supplying high quality at affordable prices.
If we can help in any way please call 01299 272 864 or Mobile 07507 105219