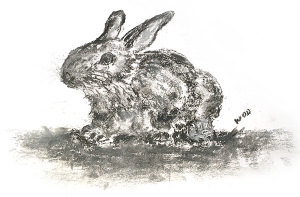 Welcome to Lodge Coppice,  a very special Caravan Holiday Park with an unusual website – read on and enjoy…
If only the wildlife could tell you about our park...The small grey rabbit stopped eating the tasty green clover to watch for a moment as a car drove slowly past on the long drive towards Lodge Coppice Holiday Park.
Mr Rodgers spoke quietly as their silver Volkswagen  passed the inquisitive little rabbit " I hope this one proves to be  the best caravan park we've visited today" … "today?" his wife replied…
"I'm already thinking it's the best planned, smartest and most beautiful static holiday site we've ever visited".
The grey rabbit had already lost interest in the Rodgers and had returned his attention to the clover around the freshly mowed grass verge which rather like a magic carpet gently rapped itself around and between the carefully trimmed holiday home pitches. The small rabbit felt safe in the spacious clearing which was surrounded by splendid tall trees stretching towards the summer sky, he'd lived there all his life, mind he was only two!
It's over12 years since the Davies Family purchased Lodge Coppice, they're a local family who had farmed the delightful Wyre Forest countryside all their lives, more recently they have enjoyed creating tranquil static caravan parks which they believed should blend sympathetically into the Worcestershire Countryside, with cool relaxing fishing pools, well cared for children's play areas and miles of open countryside walks to enjoy and exercise your dogs! This is the Davies's third holiday home park they've created and this stunning new caravan holiday home park envies the most desirable and sought after in the UK.
Our sites top priority is to entice you to happily return year after year!